Expanding Consciousness Collection
8 Brilliant Meditations
Time to be well, sleep well and be connected…
What's In The Expanding Consciousness Collection
Recorded Live during The Expanded Conscious Meditation Series 2022
Guardians of love, light and healing (37 Value)
Clean your Energy, Raise your Frequency (37 Value)
Surrendering & Acceptance (37 Value)
The Pillar of Light (37 Value)
Deep Relaxation and Restoration (37 Value)
High Frequency with your Star Guardian (37 Value)
The 9 Minute Relax
Bonus- I am Love, I am present (37 Value)
But today, you're getting all of this...
Perfect if you have never meditated and may be a bit nervous. Breathing out, releasing with de-stress breath. Guardians of love, light and healing to release and free you from any attachments to the dark forces. Room cleansing. Soothe release and relax. Implant removal from the dark forces with your signature light codes. Soothing Spinal nerves and nervous system. Connect with your earth crystal, grounded aligned, in harmony to hand over . Sleep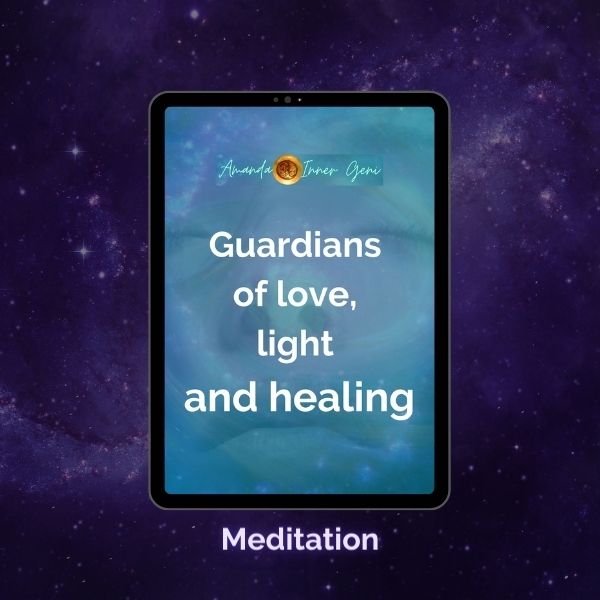 Clean your energy Raise your frequency to sit in a field of delight to balance deeply. Guardians for your highest good, most perfect frequency for bringing balanced energy to clean and clear. Transmuting energy to release outdated tension out of your physical body with Colour healing to further raise your frequency in a gently bringing further balance. Connect with your earth crystal and the heart of creator. Connect with your soul in trust by simply being with self. Sleep
of all that IS in the ISness ...Higher Heart – comfort safety love and unconditionality. Surrendering into higher vibe to clear the past letting go to enter neutrality. Expand your consciousness out into the universe to hold its wisdom. Appreciation for your higher frequency guardians. Connecting to ground with your earth crystal to own your frequency. Releasing unnecessary burdens from your physical with your Guardians for your highest good. Create the most perfect frequency for bringing balanced energy to clean and Clear your field to sit with your soul, your unique, individual frequency signature. Connect to your secret chord and hear it sing. Elemental healing while you sleep for re-balancing your physical elements
We tune into your memory of freedom, prana, chi, lifeforce through your highest heart connection to divine Mother & Father. Surrender into the healing of your 'med-bed' while you sleep tonight to heal, trauma, karma balance of your life. Meet your Higher self (Guardian) to begin journey together to integrate your inner child hurts/ wounds and activate them to participate in manifesting your creation.
Release from flight n flight. Washing away all your cares concerns worries, tension. Give yourself a moment to feel love, to feel lovely. Creating supportive elixir to heal in that is just perfect for you. Gain some perfect restorative energetic gifts from within your personal crystal cavern. Connect and heal with your soul support.
Experience being at one with home in your own harmonic, your perfect melody in starlight. Release trauma from your bones. Releasing communication blocks. Your guardians send the perfect harmonic to heal while in your frequency 'med-bed', while the ancients work with you to heal, remove implants and obstructions to then receive healing love. You are a supported child of the universe! Heal while you sleep, regenerate, rejuvenate, be in peace.
Take 9 minute anywhere anytime to relax The solution to find some relief Start to live in peace and harmony - No experience required! Immediately relax and find peace... even if you've tried before and failed Stop experiencing the anxiety trying to live your life in peace Eliminate needless stress over meditating, for a bit of peace in the chaos - Once And For All!
Perfect to take the physical and mental stress out of your day. De-stress, relax, align with your inner genius easily and effortlessly. I am Love, I am present Can be utilised any time of the day
This is not like a "normal" meditation, it's much, much better than that. It feels more personal on an individual level, soul connecting. You will feel safe, calm and relaxed as you take in the beautiful frequency. Listen as Amanda guides and connects you on this amazing journey. I felt enlightened as Amanda took me through the meditation. I also felt lighter as the burdens of daily life were lifted from my shoulders. I have to say I had the best night's sleep I've had in a very long time. I woke to feel energised, well rested and clear. I can highly recommend you go on this beautiful and fulfilling journey. It's a truly uplifting and fantastic experience that shouldn't be missed. It is something you definitely need to experience for yourself, and you won't be disappointed. Thank you so much Amanda xxx" "
"After only 1 week! I started attracting wonderful events and people. Wow and I am not really good at meditating but Amanda guided me every step of the way. "
"It's always a pleasure to hang out with you Amanda. I love your calm & soothing style & the meditations are always so beneficial & leave me feeling safe & relaxed."